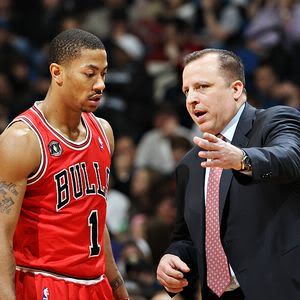 By Justin Worsley,
Chicago Bulls rookie head coach Tom Thibodeau was named the NBA's Coach of the Year on Sunday, the first Bulls coach since Phil Jackson in 1996 to win the award.
Under Thibodeau, Chicago went 62-20, their best record since the 1997-98 season, when the won their most recent NBA Championship.
Chicago's 62 wins are the most by a rookie head coach since the Paul Westphal-led Phoenix Suns went 62-20 and lost to the Bulls in the NBA Finals.
Thibodeau, 53, served as the Boston Celtics assistant between 2007-10 before being hired by Chicago. The Bulls made the playoffs in former head coach Vinny Del Negro's two years with the team, but never made it out of the first round, posting a 41-41 record each season.
Thibodeau, credited with being the defensive mastermind in Boston, created a new scheme in Chicago and the Bulls flourished, allowing the second-least amount of point per game this season after the Bulls ranked 13th just a year ago.
Point guard Derrick Rose also responded to Thibodeau's system well, reaching a career high in points, steals, blocks, assists and rebounds per game along with both free throw and three-point percentage. If Rose wins the NBA's Most Valuable Player Award, as many expect him to, the coach and player will become just the 12th tandem to win both awards on the same season.
The award for the NBA's MVP will be announced later this week.